A carefully guided process for financial planning – and learning
When we work with you to build your personalized financial plan, we'll follow an orderly process to get to know you personally, professionally and financially. In doing so, we will identify your goals and assess your current financial situation in order to make suitable recommendations. Importantly, you'll be provided with ample opportunities to learn along the way.
When complete, your personalized financial plan will help ensure rational analysis and carefully defined goals are the basis for investment decisions rather than short-sighted reactions to the market. It will also help clarify and demystify the investment approach we take to help you feel confident in the decisions we'll help you make as you pursue your goals for the future.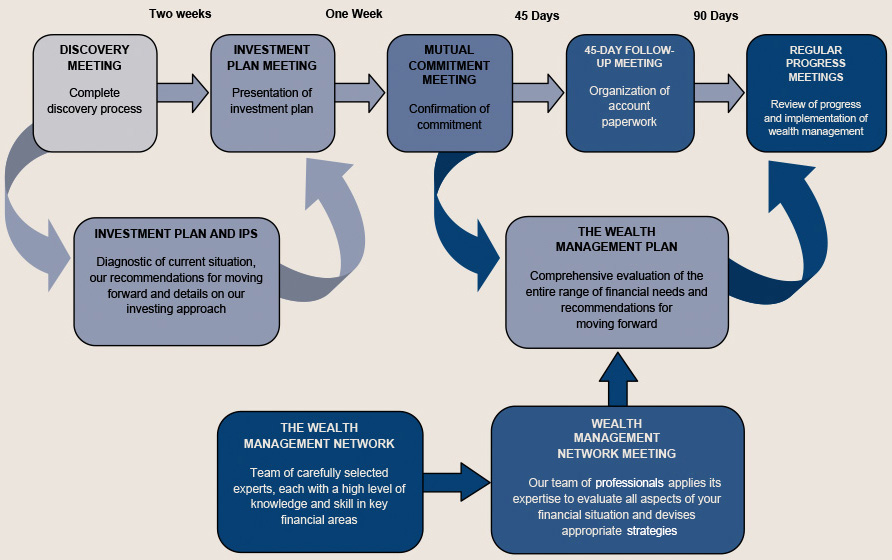 Discovery Meeting | two weeks > | Investment Plan Meeting | one week > | Mutual Commitment Meeting | 45 days > | 45-Day Follow-Up Meeting | 90+ days > | Regular Progress Meetings
---
Discovery Meeting
In this important first meeting, you'll learn firsthand the truly collaborative nature of our practice. We will learn about you, your goals, values, interests and relationships. We will also take this opportunity to learn about any special financial issues or challenges you may have. We look at your current financial situation and begin to consider how to customize a plan for pursuing your objectives.
Investment Plan Meeting
We will present the total client profile we have created based on the information you shared with us in the discovery meeting. The investment plan we will present will serve as our foundation for a working relationship.
Mutual Commitment Meeting
A common vision is important to the success of your plan. That's why at this meeting we will determine if working together makes for a good fit, and if you remain comfortable with our investment plan after giving it further consideration. If we are in alignment, we make a mutual commitment to work toward the goals that are important to you and your family or company. We also prepare the documents necessary to implement your investment plan.
45-Day Follow-Up Meeting
We know that having multiple investments can make for a lot of paperwork. So we incorporate this important meeting in order to sit down with you to review the statements you have received and help you organize your paperwork. We will also answer any questions you may have to help ensure you understand exactly how your money is invested.
Regular Progress Meetings
Scheduled quarterly at your convenience, these meetings will enable us to learn about any changes in your personal or financial life since our last meeting and allow us to make adjustments to your investment plan when necessary. We will also review your overall progress toward your long-term financial goals.